Summer Tzatziki Sauce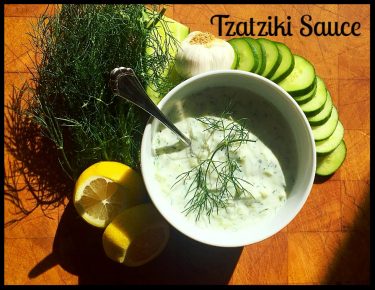 Recipe provided by Austin Personal Chef: Carlos Crusco
Ingredients:
3 medium cucumbers – peeled, seeded, and grated

2 cups Fage Greek Yogurt

4-5 garlic cloves –  minced

4-5 tbsps. finely chopped fresh dill

2 tbsps. chopped fresh mint

2-3 lemons – juice only

3-4 tbsps. extra-virgin olive oil

Coarse Salt/Fresh Pepper
Directions:
Using a box grater (large holes) grate the cucumber into shreds and set aside. Press cucumbers a bit to extract some of the excess liquid (save the liquid). Transfer to a bowl.
Mix in yogurt, garlic, dill, mint, lemon juice & oil. Season with salt and pepper. Taste and adjust as needed.
If too thick, add cucumber juice, lemon juice or heavy cream. If too thin, add more yogurt or cucumber.
Refrigerate 30-60 minutes or overnight to allow flavors to blend; serve cold or at room temperature. Enjoy!