Salted Caramel Sauce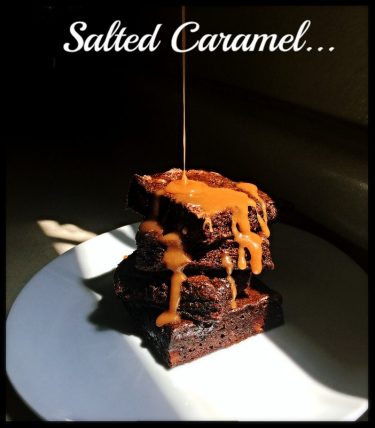 Recipe provided by Austin Personal Chef: Carlos Crusco
Ingredients:
1 cup granulated sugar

4 tbsps. heavy cream

4 tbsps. unsalted butter

1/2-1 tbsp. flaky sea salt (such as Maldon) – depending upon your liking
Directions

Bring sugar and 4 tbsp. water to a boil in a medium saucepan over medium-high heat, stirring to dissolve sugar. Boil, swirling pan occasionally, until mixture turns a deep amber color, 8–10 minutes.
Make sure to have your cream, butter and salt measured and prepared as the next steps are fast!
Remove from heat and gradually add cream (mixture will bubble vigorously). Add butter and salt. Cook over medium heat, stirring occasionally, until smooth, about 2-3 minutes.
Remove from heat and let cool slightly before serving. Enjoy!
Great sauce for apple pie, cakes, ice cream, cookies or Triple Chocolate Brownies (as pictured).
*DO AHEAD: Sauce can be made 1 week ahead. Cover and chill. Bring to room temperature or rewarm in the microwave before serving.