Mushroom & Madeira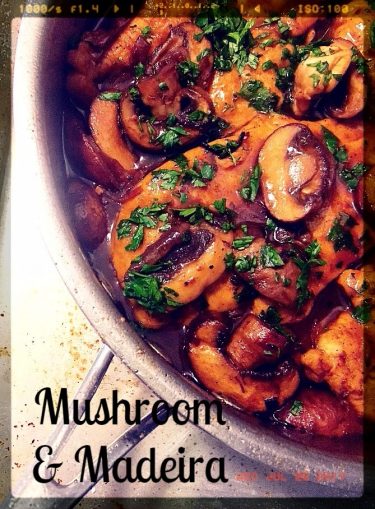 Recipe provided by Austin Personal Chef: Carlos Crusco
Ingredients 
2 tbsps. extra-virgin olive oil
3 tbsps. unsalted butter
12-15 Cremini mushrooms – sliced 1/2 inch thick
2 large shallots – finely minced
2 garlic cloves – finely minced
1/4 cup White wine
3/4 cup Madeira
1/4-1/2 cup chicken stock
3 sprigs fresh thyme – leaves only
3 tbsps. fresh parsley – rough chop
Coarse salt and freshly ground pepper
Directions
Melt 2 tbsp. butter and 1 tbsp. oil in a saute pan over high heat. Add mushrooms and sear until golden in color on both sides (4-6 minutes). Season with salt/pepper, add more oil and then add shallots.
Cook over medium heat for about 3-4 minutes. Add garlic, cook and taste. If needed, season with salt/pepper.
Turn the heat up to high and deglaze the pan with wine. Using a wooden spoon scrape up the fond in the pan. Add Madeira, stock and cook on med-high until reduced by half. Add herbs and simmer 3-4 minutes.
Finally, whisk in 1 tbsp. cold butter. Taste and season with salt and pepper if needed.
To serve, Cook some chicken, quail or duck breasts. Liberally spoon the sauce over the meat. Enjoy!