Grilled Chicken + Fredericksburg Peaches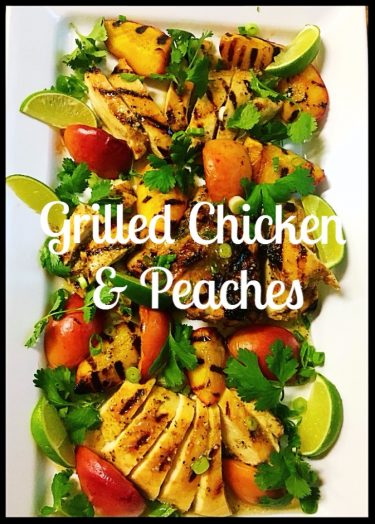 Recipe provided by Austin Personal Chef: Carlos Crusco
Ingredients 
2 Chicken breasts – sliced in half lengthwise
2 Chicken thighs – trimmed and cleaned
3-4 Fredericksburg Peaches (now in season!) – cut into quarters
6 limes – for zest and juice, 1 for wedge garnish
1/4 cup vegetable oil
3 tbsps. grated ginger
2 garlic cloves – finely minced
4-5 tbsps. honey
Sea Salt and Fresh Ground Pepper
2 green onions – thinly sliced
1 bunch cilantro – leaves only
Directions
Preheat grill to high. Allow chicken to sit at room temperature an hour before cooking. Prepare the peaches and rub 1 tbsp. vegetable oil all over them and set aside. Add lime juice/zest, oil, ginger, garlic & honey to a bowl.
Remove 1/4 cup of the marinade for basting on the grill. Prepare the green onions and cilantro for garnish.
Clean the grill with a proper grill brush and oil the grates. Season the chicken with salt and pepper and place on the grill. Put the thighs on first as they will take longer to cook.
Allow the chicken to cook for 4-5 minutes per side while basting the other side. Once an instant-read thermometer inserted into the thickest part of the meat registers 155-160° remove from the grill, cover and allow the meat to rest for 3-4 minutes.
Place the peaches on the grill as well until you see grill marks (2-3 minutes). Remove immediately.
Transfer chicken breasts to a cutting board and cut 1 inch slices. Place slices onto a platter along with the chicken thighs. Garnish the platter with the grilled peaches, green onions, cilantro and lime wedges. Enjoy!